Banksy comments on Brexit in Dover
New work by Banksy in the southern port town of Dover.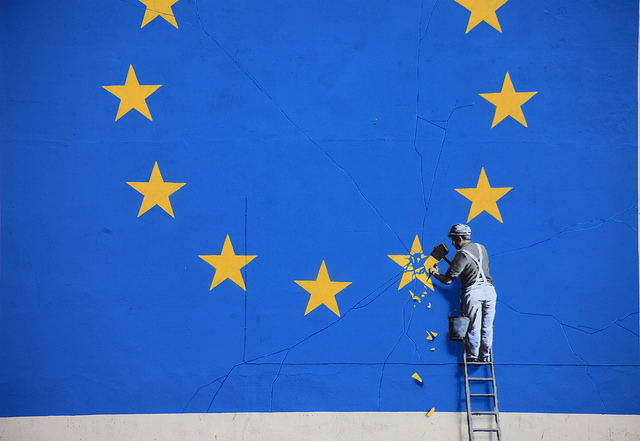 Banksy On Brexit In Dover. The Brexit vote happened nearly a year ago now. Since that time Article 50, which will take the UK out of Europe in two years, has recently been triggered. The process of disengaging and dismantling the ties with the European Union has begun. In Banksy's depiction a worker chips away at one of the twelve stars of the European flag. Cracks appear and reach out in all directions threatening the 'circle of unity' that the symbol represents.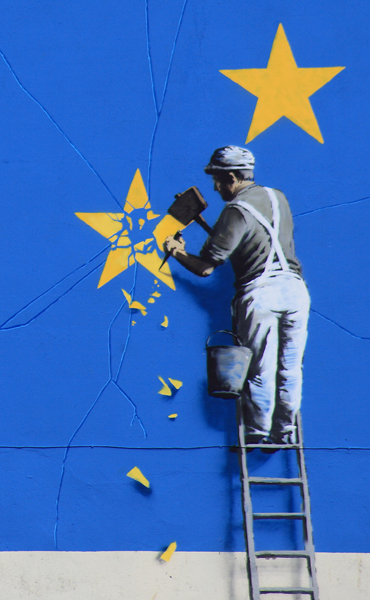 Beautifully executed depictions of falling debris and cracks.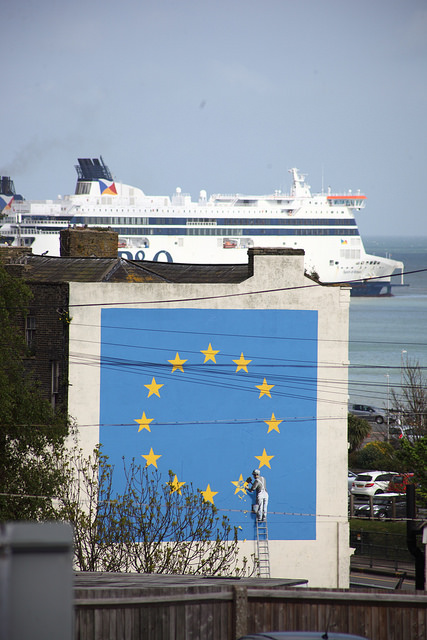 The new artwork appears on the side of a building that previously hosted 'Castle Amusements' but has since been earmarked for redevelopment. Going back even further a local historian claimed that this location was once the site of the Severus Gate – an important entrance from the sea through Dover's protective wall into the town itself.
Banksy's piece is impressive in scale, covering the side of a four storey building and makes use of  a trompe l'oeil effect to make the character, the ladder and the falling fragments of star appear to be in three dimensions.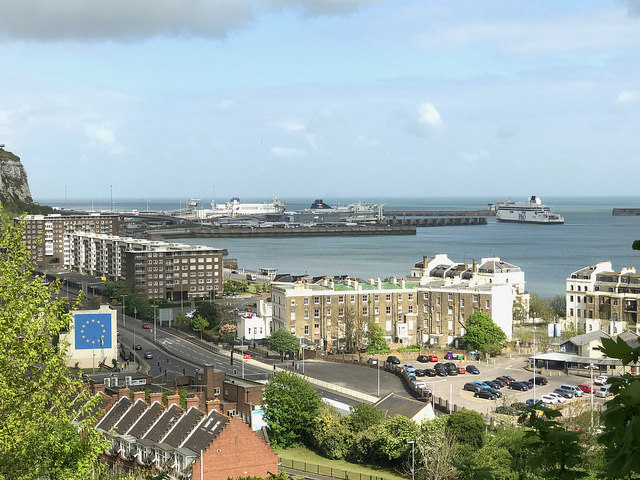 Local reaction and what happened next
Just like the Brexit vote this new work seems to have divided opinions with a mixed reaction from locals online. In person at the site, however,  admiration was pretty much universal. "How did he get away with it, it's brilliant" said one onlooker. Perhaps it's best not to discuss his methods here and just enjoy the magic. A spirit level and a grid would surely have come in handy though to get everything so perfectly in line. The piece is highly visible from a good distance and is on the roadside of the A20 en route to one of the most important crossings to the continent – the Dover Ferry terminal.
Sad to say that already the vultures are circling it, looking to buy and remove the wall to see on at a profit so if you want to see it in person enjoy it while it lasts -although it surely can't be that easy to take down such a large piece of work and if what happened to his piece in Folkestone is anything to go by there may be a few arguments along the way.