Pictures on Walls – the end of an era (and a chance for a Banksy print)
PICTURES ON WALLS – Closing down sale and a chance to buy a Banksy print
Pictures on Walls, the print house that made 'art that charts' and featured Banksy and dozens of other artists have announced they have been 'taken over by venture anti capitalists' and will cease trading 31st December 2017. There will still be an online archive of POW output and you'll still be able to get prints authenticated after this time but this is your last chance to buy prints. There are plenty of discounts available with some very cheap options indeed (three Dismaland T Shirts for a tenner)? There will also be some never released work being made available including 'Country Walk' by Gee Vaucher and Banksy's 'Sale Ends'. The latter print has been in the works for a very long time. The initial run was sold back in 2006 during his 'Barely Legal' LA show. Since then it's been reworked by the artist into a quite different looking limited edition print of 500 signed copies.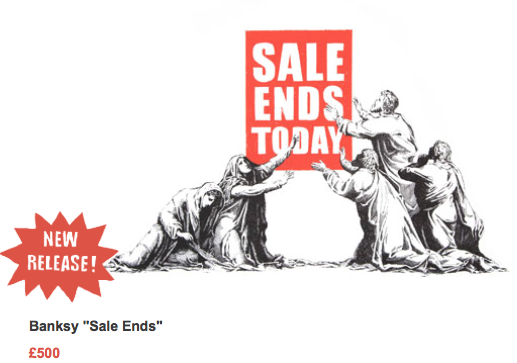 The good news here (well for me at least as my page refreshing skills were sadly lacking the last few times Banksy sold a print) is that entry is via lottery system.  To reminisce about the good old days of POW and all their amazing output (or just to make yourself wince that you could have bought a Banksy print and still have change out of £50) read on….
"We thought of calling it a revolutionary new way to sell Art but it's not revolutionary. It's just cheap." POW Manifesto 2004
POW came out of a frustration that just a small number of individuals and organisations decide what art the public should see and buy. They summed this up best in their manifesto back in 2004 – "When you go to an Art gallery you are simply a tourist waving flags at a parade. A parade where the winner was decided without you". So they set about changing this whole model by producing, promoting and distributing works by artists who actually selected by artists. Independent and DIY they soon became ground breaking and successful – pushing the boundaries of the screen printing process and making art prints that people could afford.
"Come the Revolution these pictures will be first against the wall" POW website 2004
Their initial roster was a veritable who's who of street art in 2003 with Dface, Faile, 3d, Mode2, Bast, Insect and, of course, Banksy. They were also working with some other more established names including Jamie Hewlett (Tank Girl), Peter Fowler and Gee Vaucher (Crass) and soon after Ben Eine's work appeared on the site. The art pop up show and shop was a concept they really made their own with  Santa;s Ghetto and they were heavily in involved in events such as the Cans Festival. Here's a look back at some of their significant events along the way….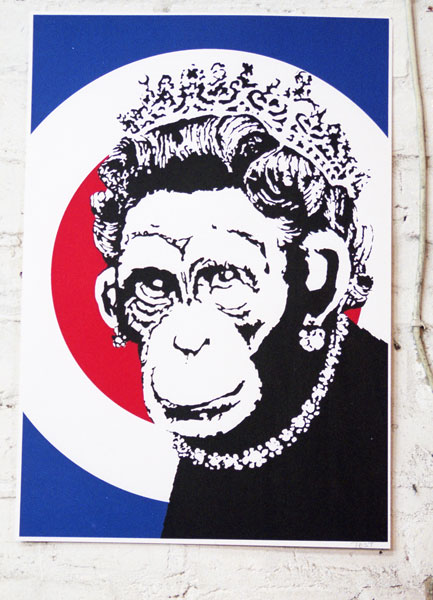 Back at the beginning Banksy prints sold for under £50 at shows like Turf War and in retail outlets in UK cities such as Bristol and London . POW brought these artworks online to a whole new worldwide audience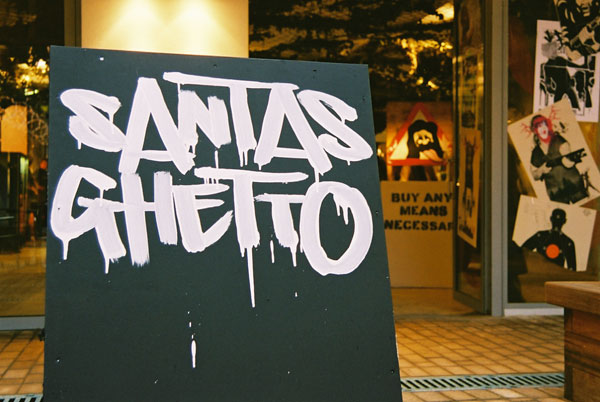 By the time Santa's Ghetto hit Carnaby Street POW was becoming a recognised brand for affordable art albeit employing unconventional tactics and very little physical opportunities to take it back to the shop for a refund post Christmas.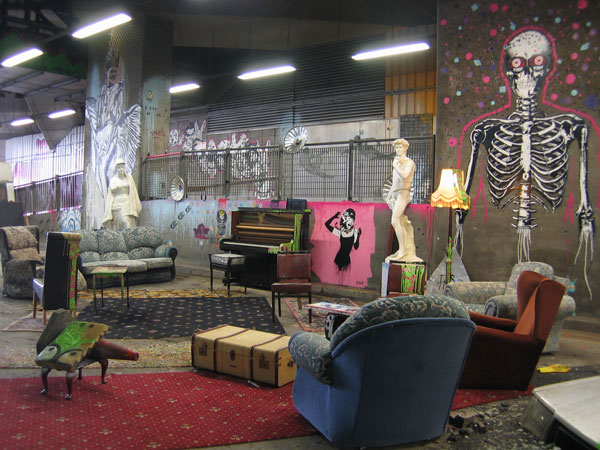 The Cans Festival turned a dank and dirty underpass beneath Waterloo station into a thriving art show whose legacy continues to this day. It's now a brightly painted and busy dank and dirty underpass.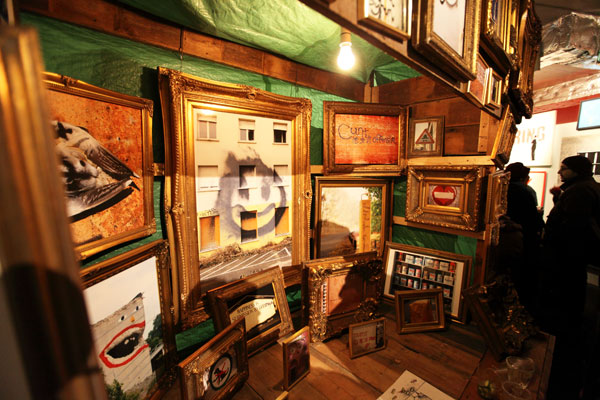 POW even has its own spin off website – pictureofwalls.com – featuring the best worst graffiti in the World.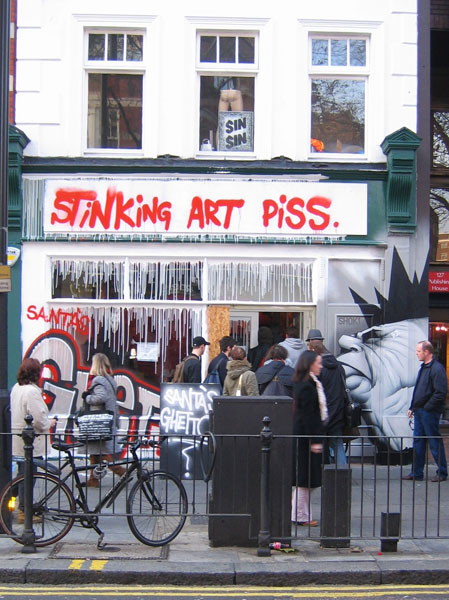 2004's Santa's Ghetto raised the tone in London's Tottenham Court Road. Art work on the right by Shok1.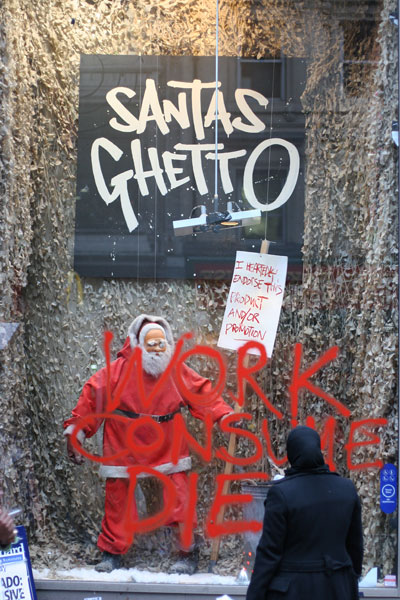 Smack bang in Oxford Street, POW's window display chimed with the times in 2006. Merry Christmas everyone.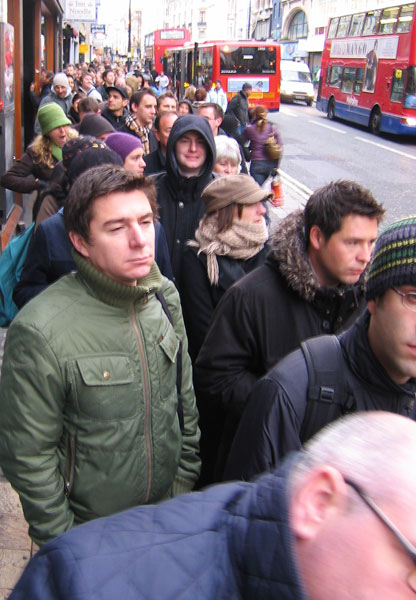 And POW could always create a queue – this is the queue for Banksy's £100 'Flags' print (all proceeds to Sightsavers) snaking down Oxford Street in 2006.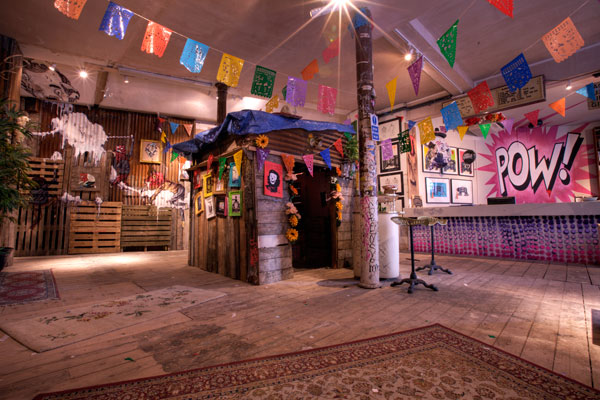 POW's offices / showroom in Aldgate staged show memorable shows – this was Fiesta Resistance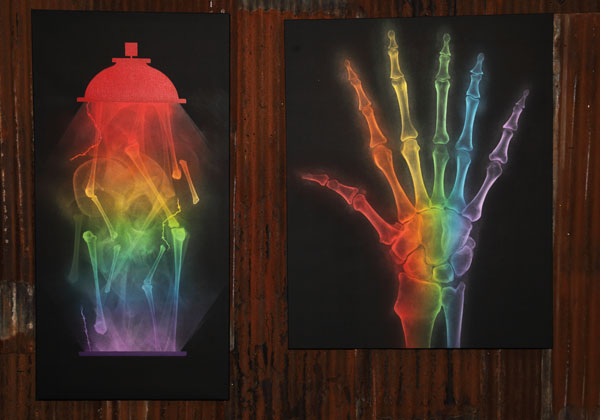 Shok1's standout x-ray style show at POW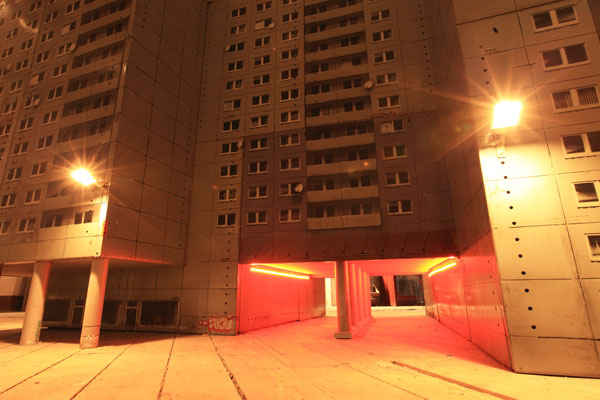 Evol recreated tower blocks in POW's office using filing cabinets and stencils.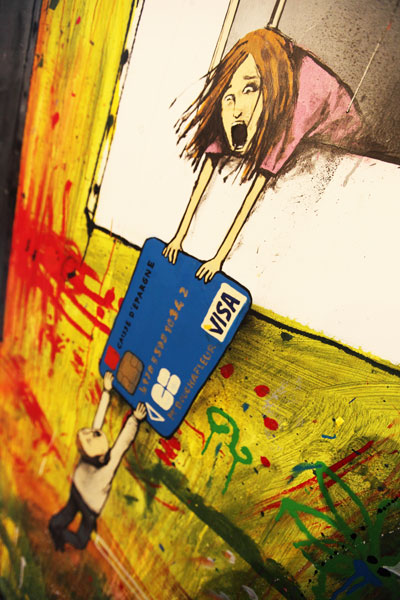 After the POW offices closed POW reverted to pop up shows again.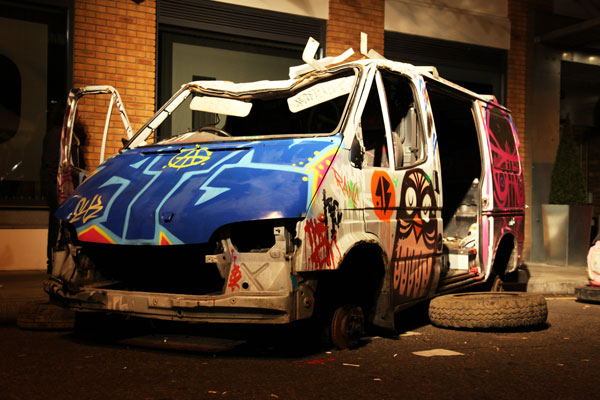 POW may be gone – but keep an eye out for more developments