Banksy Funds High Speed Mediterranean Lifeboat
According to a report in the Guardian and now widely reported elsewhere Banksy has financed a high speed rescue boat from the sales of his artwork. The former French Navy vessel measures 30 metres and is capable of over 28 knots – meaning it can act as a first responder in the Mediterranean to reports of migrants in trouble. It's been named Louise Michel after the French anarchist who herself was deported. Reports suggest that it has already been hard work assisting in rescue operations and taking on board 89 people found in trouble in the sea. You can follow it's important work in via its Live Feed on it's website which also contains more details about its purpose and mission.
Banksy appears to have become involved after writing to Pia Klemp, a former captain of several NGO boats carrying out similar work in the past before the legal system caught up with them and halted their work. ""Hello Pia, I've read about your story in the papers. You sound like a badass," he wrote. "I am an artist from the UK and I've made some work about the migrant crisis, obviously I can't keep the money. Could you use it to buy a new boat or something? Please let me know. Well done. Banksy."
I'd highly recommend watching Pia Klemp's Berlin Ted talk for more background as to her motivations and the problems both she and the crew of the Louise Michel are trying to address now:
Of course the boat has been given the Banksy treatment – the white hull has been spray painted with hot pink from what looks like a fire extinguisher and a new version of the girl with a balloon artwork now has her with a heart shaped lifebelt.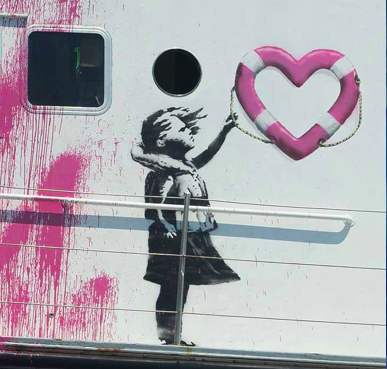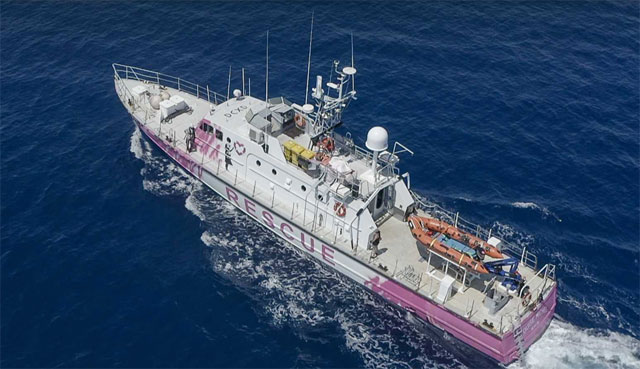 Banksy has yet to comment on any of this himself with the boat launched in secrecy back on the 18th August.