Banksy Graffiti Removal Hotline, West Kensington
About every two hours the government decide to launch a new initiative to crack down on anti-social behaviour (this despite there being 'no such thing as society' according to a previous occupant of the the top post). Each turns out to be as effective as the last but gives the impression that something is being done. The latest initiative are hotlines to report graffiti - a call to arms for some.
STATUS: not just buffed in white but obliterated by black paint, somebody was really upset!
All photographs copyright artofthestate 2006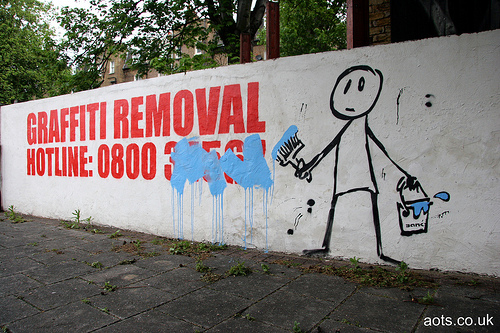 Banksy Graffiti Removal Hotline, West Kensington
Banksy news - read the aots banksy blog
Banksy street work photo galleries
London 0 1 2 3 4 5 6 7 8 9 10
11 12 13 14 15 16 17
Bristol / Seaside
USA / Europe
Banksy off street photo galleries
Turf War 1 2 3 4
Crude Oils 1 2
Barely Legal 1 2
Cans Festival 1
Banksy versus Bristol Museum 1 2
Santa's Ghetto 2003 2004 2005 2006 2007 2010 - M&S
Other Banksy Exhibitions 1
Banksy film and videos
Exit Through The Gift Shop DVD and film
Banksy videos
Banksy prints
screen prints / photo prints
Banksy books
Banging / Exist / Cut It Out / Wall and Piece /
All Banksy Books
Official websites
Banksy.co.uk (the real deal)
picturesonwalls.com (prints)
pestcontroloffice.com (authentication)
Banksy - stuff for sale quick links




Banksy FAQ