Banksy Bethnal Green Yellow Lines Flower Painter
Banksy, Yellow Lines Flower Painter, Pollard Street, E2. London Yellow lines flower painter found in Pollard Street, Bethnal Green, London.
Prior to this image appearing Tower Hamlets Council vowed to remove all Banksy graffiti from their streets. I don't know who they think they represent because while I was taking these pictures every single person who saw it stopped and said how much they liked it (and that included a traffic warden)!
October 2007 STATUS: Still running,  the face is pretty much tagged over and a lot of the detail lost. Yellow lines on pavement removed.
copyright artofthestate.co.uk 2007 / 2013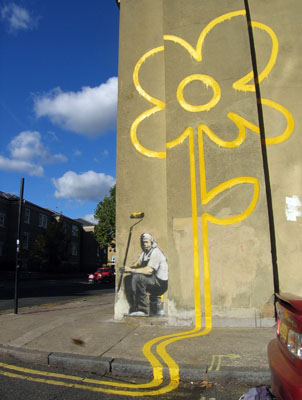 Banksy, Pollard Street, Bethnal Green
Banksy street work photo galleries
London 0 1 2 3 4 5 6 7 8 9 10
11 12 13 14 15 16 17
Bristol / Seaside
USA / Europe
Banksy off street photo galleries
Turf War 1 2 3 4
Crude Oils 1 2
Barely Legal 1 2
Cans Festival 1
Banksy versus Bristol Museum 1 2
Lambeth Palace 1
Santa's Ghetto 2003 2004 2005 2006 2007 2010 _ M&S
Other Banksy Exhibitions 1