Banksy Royal Family on a Balcony – image used as a basis for the Blur Crazy Beat single
Banksy Blur Crazy Beat stencil artwork The cover artwork for Blur's Crazy Beat single also appeared on the side of a house in Stoke Newington. This wall was previously the site of one of Banksy's Coldstream guards.
The council subsequently started to paint over the entire piece but were soon forced to abandon their plans after a local outcry over yet another loss of Banksy artwork. Nowadays some councils maintain lists of Banksy works to prevent them being the target of graffiti removal squads.
STATUS: Half obliterated by the council but the figures are still visible.
All photographs copyright artofthestate 2004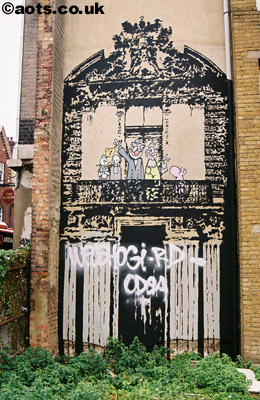 Banksy Blur Crazy Beat single
Image Reference : SABYBLCB001
Banksy Index