Photo of a Banksy stencil of a cat playing with an orange wool ball
Banksy cat and orange wool This is the start of Britain's alleged longest painting (though the white line on the M1 motorway probably wins that award). I followed the wool trail all around Ladbroke Grove where it was supposed to lead back to a girl putting the other end into a plug socket. Only trouble was that someone had had the whole door away that this was painted on….
STATUS: Cat has been reported as missing.
All photographs copyright artofthestate 2005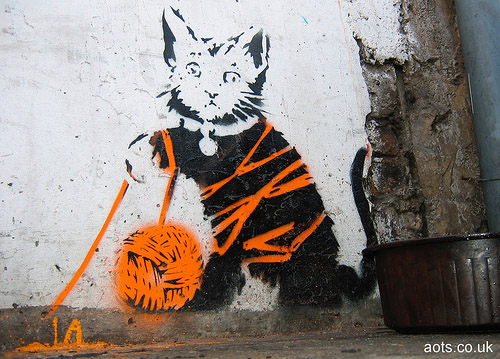 Banksy cat and orange wool
Banksy news _ read the aots banksy blog
Banksy street work photo galleries
London 0 1 2 3 4 5 6 7 8 9 10
11 12 13 14 15 16 17
Bristol / Seaside
USA / Europe
Banksy off street photo galleries
Turf War 1 2 3 4
Crude Oils 1 2
Barely Legal 1 2
Cans Festival 1
Banksy versus Bristol Museum 1 2
Santa's Ghetto 2003 2004 2005 2006 2007 2010 _ M&S
Other Banksy Exhibitions 1
Banksy film and videos
Exit Through The Gift Shop DVD and film
Banksy videos
Banksy prints
screen prints / photo prints
Banksy books
Banging / Exist / Cut It Out / Wall and Piece /
All Banksy Books
Official websites
Banksy.co.uk (the real deal)
picturesonwalls.com (prints)
pestcontroloffice.com (authentication)
Banksy _ stuff for sale quick links




Banksy FAQ