Banksy, Click Clack Boom, Bristol
Banksy, Click Clack Boom,  Bristol Early Banksy work in Cato Street. This wall was made famous when the house was put up for sale with the unusual idea of the graffiti on the side being included. In fact many reports suggested the graffiti was worth more than the house itself. Things turned a bit sour when a tin of red paint was aimed at the side of the house and the vandalism was vandalised. Another bit of Banksy history lost.
STATUS: hit by a red paint attack.
All photographs copyright artofthestate 2007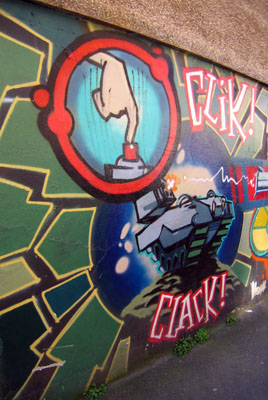 Banksy Cato Street House graffiti, Bristol
Banksy street work photo galleries
London 0 1 2 3 4 5 6 7 8 9 10
11 12 13 14 15 16 17
Bristol / Seaside
USA / Europe
Banksy off street photo galleries
Turf War 1 2 3 4
Crude Oils 1 2
Barely Legal 1 2
Cans Festival 1
Banksy versus Bristol Museum 1 2
Santa's Ghetto 2003 2004 2005 2006 2007 2010 _ M&S
Other Banksy Exhibitions 1