Banksy CND soldiers canvas, Brian Haw protest
Banksy CND soldiers canvas at the Brian Haw Anti War protest Originally to be found in the Old Street area on a wall the canvas version of this message turned up in Parliament Square in 2005 but was short lived. This one lasted longer and was in place since early 2006 until the Police finally removed it when clearing the site during a night raid.
The painting formed part of Brian Haw's anti war protest directly opposite Parliament. Brian was a permanent fixture in Parliament Square from June 2001, originally protesting about the sanctions and bombing imposed on Iraq. He widened his protest to include all aspects of the war against terror and escaped the ban on protests in the area because he started in June and the new law stipulates protests starting from August. The law was ultimately redrafted to make sure it is no longer possible to have any demonstration in front of Parliament without permission.
So, as long as the government (a choice of just three jokers) loosely agree with your protest you can demonstrate (quietly, in small numbers, without disrupting the traffic or being noticed). Democracy in action….
Sadly Brian has passed away but his dedication to peace remains as an inspiration to many.
STATUS: Removed. Airing your views at the seat of democracy will no longer be tolerated in order to keep the place looking nice and tidy for the tourists.
All photographs copyright artofthestate 2006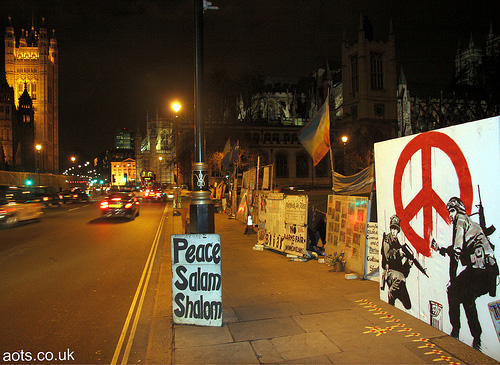 Banksy CND soldiers canvas, Brian haw Protest
Banksy news _ read the aots banksy blog
Banksy street work photo galleries
London 0 1 2 3 4 5 6 7 8 9 10
11 12 13 14 15 16 17
Bristol / Seaside
USA / Europe
Banksy off street photo galleries
Turf War 1 2 3 4
Crude Oils 1 2
Barely Legal 1 2
Cans Festival 1
Banksy versus Bristol Museum 1 2
Santa's Ghetto 2003 2004 2005 2006 2007 2010 _ M&S
Other Banksy Exhibitions 1
Banksy film and videos
Exit Through The Gift Shop DVD and film
Banksy videos
Banksy prints
screen prints / photo prints
Banksy books
Banging / Exist / Cut It Out / Wall and Piece /
All Banksy Books
Official websites
Banksy.co.uk (the real deal)
picturesonwalls.com (prints)
pestcontroloffice.com (authentication)
Banksy _ stuff for sale quick links




Banksy FAQ