Banksy The Bear and the Bee
Banksy _ The Bear and the Bee, Notting Hill. "Once upon a time there was a bear and a bee who lived in a wood and were the best of friends. All summer long the bee collected nectar from morning to night while the bear lay on his back basking in the long grass.
When Winter came the Bear realised he had nothing to eat and thought to himself 'I hope that busy little Bee will share some of his honey with me'. But the Bee was nowhere to be found _ he had died of a stress induced coronary disease".
STATUS: Removed
All photographs copyright artofthestate 2006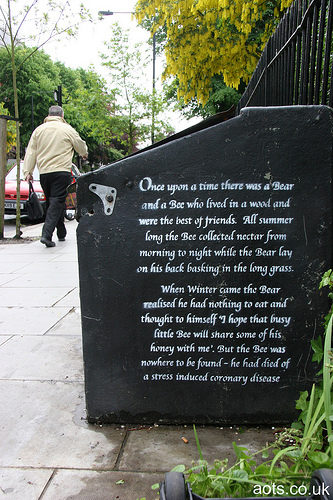 Banksy The Bear and the Bee
Banksy news _ read the aots banksy blog
Banksy street work photo galleries
London 0 1 2 3 4 5 6 7 8 9 10
11 12 13 14 15 16 17
Bristol / Seaside
USA / Europe
Banksy off street photo galleries
Turf War 1 2 3 4
Crude Oils 1 2
Barely Legal 1 2
Cans Festival 1
Banksy versus Bristol Museum 1 2
Santa's Ghetto 2003 2004 2005 2006 2007 2010 _ M&S
Other Banksy Exhibitions 1
Banksy film and videos
Exit Through The Gift Shop DVD and film
Banksy videos
Banksy prints
screen prints / photo prints
Banksy books
Banging / Exist / Cut It Out / Wall and Piece /
All Banksy Books
Official websites
Banksy.co.uk (the real deal)
picturesonwalls.com (prints)
pestcontroloffice.com (authentication)
Banksy _ stuff for sale quick links




Banksy FAQ