Banksy _ Dalston boy gun and teddy detail
Banksy _ Boy with dance mat in Gillett Square, off the Kingsland Road in Dalston For a complete picture see the previous page. There's a lot going on in this image by Banksy of a boy in Gillett Square, Dalston. The ghetto blaster brilliantly incorporates the air vent in the wall as its speaker and a tiled mat is stenciled onto the floor. The boy wears ornaments of both a gun and a teddy bear at the same time. He stares out at onlookers in one of London's most recently created town squares.
STATUS: Nothing left.
All photographs copyright artofthestate 2009 / 2011
Banksy gun chain detail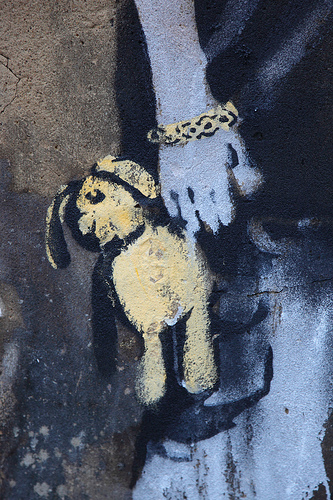 Banksy teddy detail
Banksy news _ read the aots banksy blog
Banksy street work photo galleries
London 0 1 2 3 4 5 6 7 8 9 10
11 12 13 14 15 16 17
Bristol / Seaside
USA / Europe
Banksy off street photo galleries
Turf War 1 2 3 4
Crude Oils 1 2
Barely Legal 1 2
Cans Festival 1
Banksy versus Bristol Museum 1 2
Santa's Ghetto 2003 2004 2005 2006 2007 2010 _ M&S
Other Banksy Exhibitions 1
Banksy film and videos
Exit Through The Gift Shop DVD and film
Banksy videos
Banksy prints
screen prints / photo prints
Banksy books
Banging / Exist / Cut It Out / Wall and Piece /
All Banksy Books
Official websites
Banksy.co.uk (the real deal)
picturesonwalls.com (prints)
pestcontroloffice.com (authentication)
Banksy _ stuff for sale quick links




Banksy FAQ