Banksy – Girl With A Pierced Eardrum, Bristol
Banksy – Girl With The Pierced Eardrum.
I heard about this piece in Bristol too late to get a clean photo. Shortly after it was announced on banksy.co.uk this modern take on Vermeer's 'Girl With A Pearl Earring was hit with a splattering of paint from below. Luckily it didn't obscure much of the painting itself which features an existing alarm box in the place where the earring sits on the original.
STATUS: Still there, still with the paint addition beneath it. .
photo: artofthestate.co.uk 2014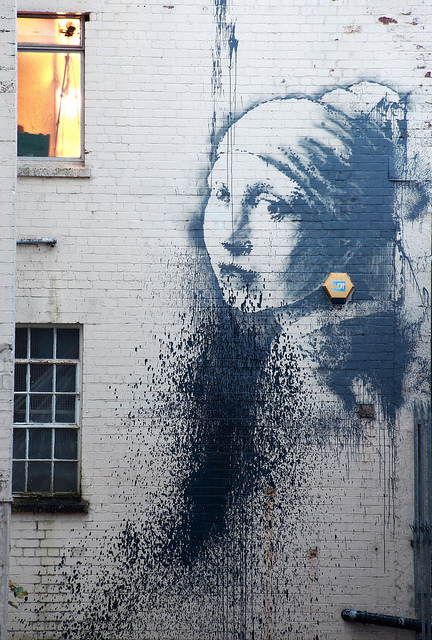 Banksy Girl With The Pierced Eardrum, Bristol
Banksy street work photo galleries
London 0 1 2 3 4 5 6 7 8 9 10
11 12 13 14 15 16 17
Bristol / Seaside
USA / Europe
Banksy off street photo galleries
Turf War 1 2 3 4
Crude Oils 1 2
Barely Legal 1 2
Cans Festival 1
Banksy versus Bristol Museum 1 2
Santa's Ghetto 2003 2004 2005 2006 2007 2010 _ M&S
Other Banksy Exhibitions 1