Banksy Police stop and search girl, Glastonbury
Banksy, Stop and Search stencil, Glastonbury The Portaloo Sunset piece was in the Glastonbury Festival site (I had no ticket and the trick of fainting outside, being carried in to the medical tent and then bolting for it no longer seems to work). So pictures of that then.
This piece of a stop and search shake down of a young girl by a policeman was on the way out of Glastonbury itself.
STATUS: painted out
copyright artofthestate.co.uk 2007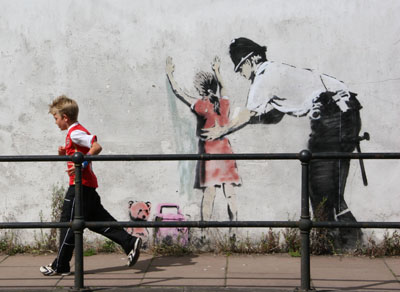 Banksy Police stop and search girl, Glastonbury
Banksy news _ read the aots banksy blog
Banksy street work photo galleries
London 0 1 2 3 4 5 6 7 8 9 10
11 12 13 14 15 16 17
Bristol / Seaside
USA / Europe
Banksy off street photo galleries
Turf War 1 2 3 4
Crude Oils 1 2
Barely Legal 1 2
Cans Festival 1
Banksy versus Bristol Museum 1 2
Santa's Ghetto 2003 2004 2005 2006 2007 2010 _ M&S
Other Banksy Exhibitions 1
Banksy film and videos
Exit Through The Gift Shop DVD and film
Banksy videos
Banksy prints
screen prints / photo prints
Banksy books
Banging / Exist / Cut It Out / Wall and Piece /
All Banksy Books
Official websites
Banksy.co.uk (the real deal)
picturesonwalls.com (prints)
pestcontroloffice.com (authentication)
Banksy _ stuff for sale quick links




Banksy FAQ