Graffiti in London, Banksy Grim reaper image
Banksy reaper IMPORTANT Someone linked to this picture on Ebay saying it provides possible proof that the work they are selling is a genuine Banksy street work (i.e. this piece).
I cannot provide provenance for Banksy work. Only pestcontroloffice.com can authenticate Banksy work (and I'd be very surprised if they would ever authenticate criminal damage in the street such as this).
Comparing the pictures on Ebay to my original picture I could see differences in the detail. If I was considering bidding on this piece (I'm not) I'd be asking the seller why this might be….
Thanks
Steve.
Another reaper in Shoreditch. The line tracing back from the reaper connects into the unit on the side of the building responsible for the oily residue on the wall.
STATUS: Buffed
All photographs copyright artofthestate 2003 / 2011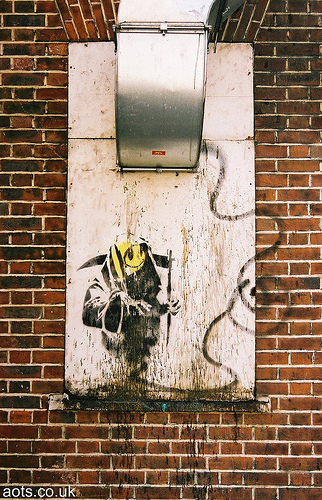 Banksy graffiti reaper
Banksy news _ read the aots banksy blog
Banksy street work photo galleries
London 0 1 2 3 4 5 6 7 8 9 10
11 12 13 14 15 16 17
Bristol / Seaside
USA / Europe
Banksy off street photo galleries
Turf War 1 2 3 4
Crude Oils 1 2
Barely Legal 1 2
Cans Festival 1
Banksy versus Bristol Museum 1 2
Santa's Ghetto 2003 2004 2005 2006 2007 2010 _ M&S
Other Banksy Exhibitions 1
Banksy film and videos
Exit Through The Gift Shop DVD and film
Banksy videos
Banksy prints
screen prints / photo prints
Banksy books
Banging / Exist / Cut It Out / Wall and Piece /
All Banksy Books
Official websites
Banksy.co.uk (the real deal)
picturesonwalls.com (prints)
pestcontroloffice.com (authentication)
Banksy _ stuff for sale quick links




Banksy FAQ