Banksy _ child sewing bunting
Banksy Child sewing Union Jack bunting. This child making bunting on an old Singer style sewing machine first appeared on the morning of Monday 14th May 2012 and was rapidly attributed to Banksy. It appeared in the run up to the Diamond Jubilee celebrations for Queen Elizabeth II on the side of a branch of the Poundland chain store. Poundland were quick to distance themselves from commentators accusations that they use child labour to make their products.
As usual these days the piece didn't last in its original state for too long. The bunting disappeared from the wall and then Perspex was unceremoniously slapped over the top with the screws going right through the painting at its base.
STATUS: Removed and auctioned
photo: artofthestate.co.uk 2012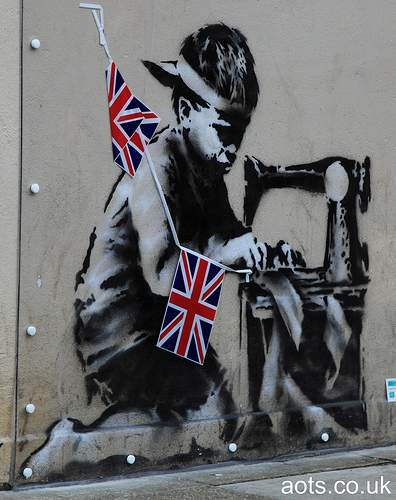 Banksy child sewing bunting
Banksy news _ read the aots banksy blog
Banksy street work photo galleries
London 0 1 2 3 4 5 6 7 8 9 10
11 12 13 14 15 16 17
Bristol / Seaside
USA / Europe
Banksy off street photo galleries
Turf War 1 2 3 4
Crude Oils 1 2
Barely Legal 1 2
Cans Festival 1
Banksy versus Bristol Museum 1 2
Santa's Ghetto 2003 2004 2005 2006 2007 2010 _ M&S
Other Banksy Exhibitions 1
Banksy film and videos
Exit Through The Gift Shop DVD and film
Banksy videos
Banksy prints
screen prints / photo prints
Banksy books
Banging / Exist / Cut It Out / Wall and Piece /
All Banksy Books
Official websites
Banksy.co.uk (the real deal)
picturesonwalls.com (prints)
pestcontroloffice.com (authentication)
Banksy _ stuff for sale quick links




Banksy FAQ