Santas Ghetto 2004
Santa's Ghetto 2004, Charing Cross Road, open until December 24th 2004 "It's back the anarchic art concept store that rallies against the commercialisation of Christmas by selling lots of stuff".
Includes stinking art piss from the likes of 3D, Sickboy, Dface, Gee Vaucher, David Shrigley, Chris Cunningham, Insect, Jamie Hewlett, Mutoid Waste and Banksy.
The title of the shop has since been changed and the Shok1 punk has been painted over apparently because of complaints.
All photographs copyright artofthestate 2004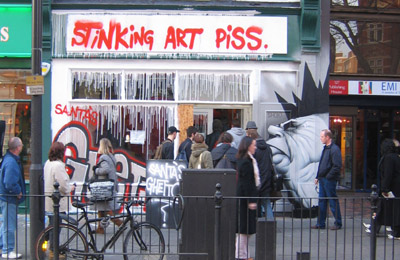 Santa's Ghetto 2004
Banksy news _ read the aots banksy blog
Banksy street work photo galleries
London 0 1 2 3 4 5 6 7 8 9 10
11 12 13 14 15 16 17
Bristol / Seaside
USA / Europe
Banksy off street photo galleries
Turf War 1 2 3 4
Crude Oils 1 2
Barely Legal 1 2
Cans Festival 1
Banksy versus Bristol Museum 1 2
Santa's Ghetto 2003 2004 2005 2006 2007 2010 _ M&S
Other Banksy Exhibitions 1
Banksy film and videos
Exit Through The Gift Shop DVD and film
Banksy videos
Banksy prints
screen prints / photo prints
Banksy books
Banging / Exist / Cut It Out / Wall and Piece /
All Banksy Books
Official websites
Banksy.co.uk (the real deal)
picturesonwalls.com (prints)
pestcontroloffice.com (authentication)
Banksy _ stuff for sale quick links




Banksy FAQ