Christ goes shopping
Santa's Ghetto store, Banksy Christ and shopping.  "The Ghetto is partly a shameless commercial enterprise, and partly about promoting art. But basically it is a piss_take on Christmas…it's also a great place to buy presents" said Banksy in the Independent.
The articles on sale range from forty odd quid screen prints and five pound stickers to the four figure bracket. It's either ridiculously cheap or ridiculously expensive depending on where you are coming from. But remember, you don't have to buy any of it.
I've got more of a problem with the fukker who went in and bought a load of stuff on the opening day and then slapped it on Ebay within 24 hours at three times the price….
All photographs copyright artofthestate 2003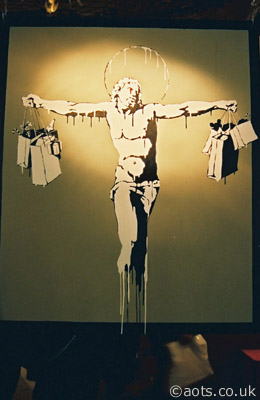 Shopping
Banksy news _ read the aots banksy blog
Banksy street work photo galleries
London 0 1 2 3 4 5 6 7 8 9 10
11 12 13 14 15 16 17
Bristol / Seaside
USA / Europe
Banksy off street photo galleries
Turf War 1 2 3 4
Crude Oils 1 2
Barely Legal 1 2
Cans Festival 1
Banksy versus Bristol Museum 1 2
Santa's Ghetto 2003 2004 2005 2006 2007 2010 _ M&S
Other Banksy Exhibitions 1
Banksy film and videos
Exit Through The Gift Shop DVD and film
Banksy videos
Banksy prints
screen prints / photo prints
Banksy books
Banging / Exist / Cut It Out / Wall and Piece /
All Banksy Books
Official websites
Banksy.co.uk (the real deal)
picturesonwalls.com (prints)
pestcontroloffice.com (authentication)
Banksy _ stuff for sale quick links




Banksy FAQ