Polly Morgan _ taxidermist
Santa's Ghetto 2005 _ Polly Morgan Polly Morgan is, apparently "Britain's hottest bird stuffer" according to the flyer for Santa's Ghetto 2005.
Polly takes taxidermy in a new direction by putting the animals in unusual surroundings and relationships. This one really caught my eye and I spent a good while transfixed on a seemingly live chick over a dead pigeon.
Polly has a show planned for later in 2006, you can find out more by visiting pollymorgan.co.uk
All photographs copyright artofthestate 2006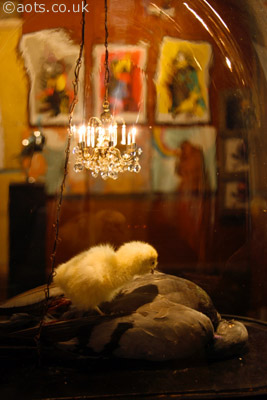 Polly Morgan
Banksy news _ read the aots banksy blog
Banksy street work photo galleries
London 0 1 2 3 4 5 6 7 8 9 10
11 12 13 14 15 16 17
Bristol / Seaside
USA / Europe
Banksy off street photo galleries
Turf War 1 2 3 4
Crude Oils 1 2
Barely Legal 1 2
Cans Festival 1
Banksy versus Bristol Museum 1 2
Santa's Ghetto 2003 2004 2005 2006 2007 2010 _ M&S
Other Banksy Exhibitions 1
Banksy film and videos
Exit Through The Gift Shop DVD and film
Banksy videos
Banksy prints
screen prints / photo prints
Banksy books
Banging / Exist / Cut It Out / Wall and Piece /
All Banksy Books
Official websites
Banksy.co.uk (the real deal)
picturesonwalls.com (prints)
pestcontroloffice.com (authentication)
Banksy _ stuff for sale quick links




Banksy FAQ