Banksy Rodin The Dunce sculpture
Banksy _ The Dunce statue Under a Buy One Get One Free offer Banksy promised to place the second copy of his parody of Rodin's The Thinker sculpture on the streets. This picture captures it when it was on the roadside underneath the Westway just outside of Paddington. Re_titled 'The Dunce' it sits contemplating the traffic whizzing alongside, overhead and underneath.
The sculpture is set on a solid concrete block and has the appearance of being cast like any other statue. It includes a cast of a traffic cone on it's head _ in this case someone has added on another cone for a bit of colour.
STATUS _ Removed.
All photographs copyright artofthestate 2004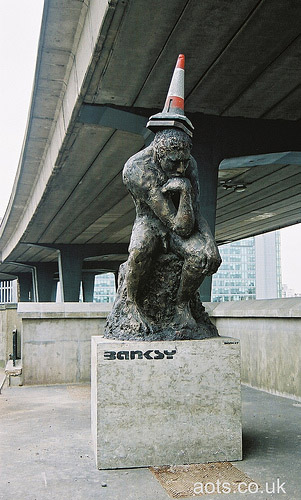 Banksy The Dunce
Banksy news _ read the aots banksy blog
Banksy street work photo galleries
London 0 1 2 3 4 5 6 7 8 9 10
11 12 13 14 15 16 17
Bristol / Seaside
USA / Europe
Banksy off street photo galleries
Turf War 1 2 3 4
Crude Oils 1 2
Barely Legal 1 2
Cans Festival 1
Banksy versus Bristol Museum 1 2
Santa's Ghetto 2003 2004 2005 2006 2007 2010 _ M&S
Other Banksy Exhibitions 1
Banksy film and videos
Exit Through The Gift Shop DVD and film
Banksy videos
Banksy prints
screen prints / photo prints
Banksy books
Banging / Exist / Cut It Out / Wall and Piece /
All Banksy Books
Official websites
Banksy.co.uk (the real deal)
picturesonwalls.com (prints)
pestcontroloffice.com (authentication)
Banksy _ stuff for sale quick links




Banksy FAQ