Banksy Simpsons Opening Sequence
Banksy _ Simpsons opening sequence Banksy created a dark opening to the Simpsons show, first aired on October 10th 2010. Featuring scenes of the manufacture of Simpsons goods via child labour amongst other dubious production values it is pretty amazing that this was in line with either the public portrayal that the company or 20th Century Fox would like to present.
Sparking worldwide coverage, it saw Banksy enter Twitter top 10 trending for the first time and spawned a whole slew of press coverage both here in the UK and in America.
Watch the video here.
copyright 20th Century Fox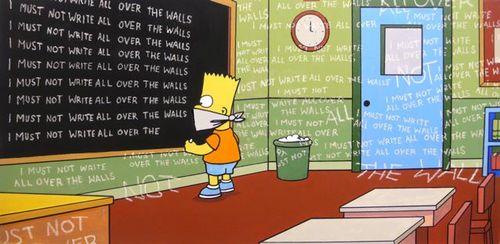 Banksy Simpsons opening sequence
Banksy news _ read the aots banksy blog
Banksy street work photo galleries
London 0 1 2 3 4 5 6 7 8 9 10
11 12 13 14 15 16 17
Bristol / Seaside
USA / Europe
Banksy off street photo galleries
Turf War 1 2 3 4
Crude Oils 1 2
Barely Legal 1 2
Cans Festival 1
Banksy versus Bristol Museum 1 2
Santa's Ghetto 2003 2004 2005 2006 2007 2010 _ M&S
Other Banksy Exhibitions 1
Banksy film and videos
Exit Through The Gift Shop DVD and film
Banksy videos
Banksy prints
screen prints / photo prints
Banksy books
Banging / Exist / Cut It Out / Wall and Piece /
All Banksy Books
Official websites
Banksy.co.uk (the real deal)
picturesonwalls.com (prints)
pestcontroloffice.com (authentication)
Banksy _ stuff for sale quick links




Banksy FAQ