Banksy Soho phone box, London
Banksy London Phone Box These pictures were sent to artofthestate on the day of its installation by an anonymous source. I went straight down there to see for myself but only found some sand and red paint running across the pavement. It seems the art critic department of Westminster City Council is just too efficient….
British Telecom released a surprisingly cheeky quote, almost claiming it as their own: "This is a stunning visual comment on BT's transformation from an old_fashioned telecommunications company into a modern communications services provider". They even mischievously claimed that they were considering putting it in the foyer of their headquarters.
They've already removed enough already so they've got plenty of opportunity to make their own one.
Westminster Council said "Although Westminster council is keen to encourage public art, we do try to be careful about where it is sited. We have suggested that Tate Modern look after his work until he can collect it"
So does this mean we get to see Kate Moss on roller skates at the Tate opening dishing out vol_au_vents?
STATUS: Removed
Copyright on this photo not with artofthestate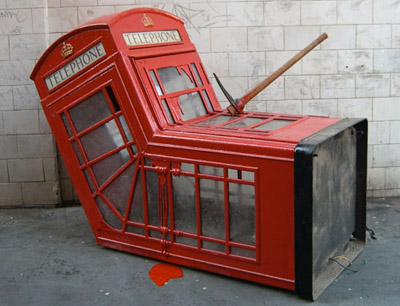 Banksy London phone box
Banksy Index