Banksy _ Artist on the South Bank
Banksy graffiti , South Bank London Painting a picture in a public space to make people think or smile is criminal damage. Flogging your product via TV, radio, billboards, spam email, adverts in urinals, 'free' gifts for kids, peer pressure et all is known as marketing. Banksy understands this.
Graffiti is not a crime, it's art without the cheese and wine brigade. It's about just letting people know you are here. The public (or the local council) will be your fiercest critics.
STATUS: Buffed
All photographs copyright artofthestate 2003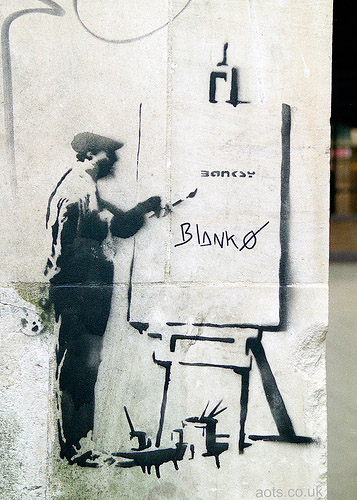 Banksy graffiti , South Bank London
Banksy news _ read the aots banksy blog
Banksy street work photo galleries
London 0 1 2 3 4 5 6 7 8 9 10
11 12 13 14 15 16 17
Bristol / Seaside
USA / Europe
Banksy off street photo galleries
Turf War 1 2 3 4
Crude Oils 1 2
Barely Legal 1 2
Cans Festival 1
Banksy versus Bristol Museum 1 2
Santa's Ghetto 2003 2004 2005 2006 2007 2010 _ M&S
Other Banksy Exhibitions 1
Banksy film and videos
Exit Through The Gift Shop DVD and film
Banksy videos
Banksy prints
screen prints / photo prints
Banksy books
Banging / Exist / Cut It Out / Wall and Piece /
All Banksy Books
Official websites
Banksy.co.uk (the real deal)
picturesonwalls.com (prints)
pestcontroloffice.com (authentication)
Banksy _ stuff for sale quick links




Banksy FAQ