Banksy Sweeping It Under The Carpet, White Cube gallery exterior wall
Banksy Sweeping It Under The Carpet. Banksy's maid keeping the streets of Hoxton Square clean and tidy. Those red bricks have been painted on the white wall of the White Cube gallery.
The gallery let the painting stay for a while but eventually removed it. It's doubtful that it would have lasted anyway as there is very little left by Banksy on the streets of London that hasn't been altered in some way.
Just for the record the Independent newspaper initially claimed that another version of this was 'commissioned' by them to appear at the junction of Regents Park Road and Chalk Farm Road. This has since been retracted by the Independent and absolutely refuted on Banksy's website: "Banksy does not do graffiti commissions for national newspapers and is unlikely to start at any point in the near future".
Banksy explained the meaning behind the pictures: "In the bad old days, it was only popes and princes who had the money to pay for their portraits to be painted, this is a portrait of a maid called Leanne who cleaned my room in a Los Angeles motel. She was quite a feisty lady."
STATUS: Buffed.
All photographs copyright artofthestate 2006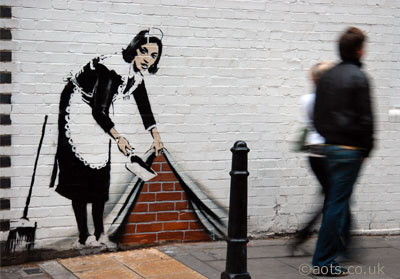 Banksy Sweeping It Under The Carpet
Banksy street work photo galleries
London 0 1 2 3 4 5 6 7 8 9 10
11 12 13 14 15 16 17
Bristol / Seaside
USA / Europe
Banksy off street photo galleries
Turf War 1 2 3 4
Crude Oils 1 2
Barely Legal 1 2
Cans Festival 1
Banksy versus Bristol Museum 1 2
Santa's Ghetto 2003 2004 2005 2006 2007 2010 _ M&S
Other Banksy Exhibitions 1