Banksy kids pledging their allegiance to Tesco
Banksy, Tesco _ Pledge Your Allegiance (official title 'Very Little Helps') Essex Road N1, Running up the Tesco carrier bag flag.
STATUS: Still running but covered in Perspex _ and the flag has been painted over and then restored _ artist unknown. Some text has been added.
copyright artofthestate.co.uk 2008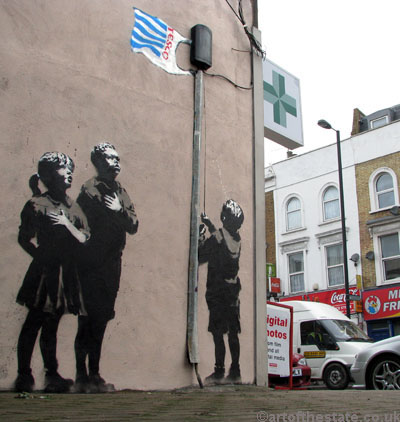 Banksy: kids pledging their allegiance to Tesco
Banksy news _ read the aots banksy blog
Banksy street work photo galleries
London 0 1 2 3 4 5 6 7 8 9 10
11 12 13 14 15 16 17
Bristol / Seaside
USA / Europe
Banksy off street photo galleries
Turf War 1 2 3 4
Crude Oils 1 2
Barely Legal 1 2
Cans Festival 1
Banksy versus Bristol Museum 1 2
Santa's Ghetto 2003 2004 2005 2006 2007 2010 _ M&S
Other Banksy Exhibitions 1
Banksy film and videos
Exit Through The Gift Shop DVD and film
Banksy videos
Banksy prints
screen prints / photo prints
Banksy books
Banging / Exist / Cut It Out / Wall and Piece /
All Banksy Books
Official websites
Banksy.co.uk (the real deal)
picturesonwalls.com (prints)
pestcontroloffice.com (authentication)
Banksy _ stuff for sale quick links




Banksy FAQ