Banksy Tox in Camden
Banksy Tox in Camden, London Tox aka Toxic is tag that can be seen all over London, particularly on the rail and tube networks. Often written with speed more than artistic impression in mind it nevertheless has a prominent place in the history of London Graffiti. This is Banksy's piece featuring Tox bubble writing being produced by an identity protected little boy. It's no coincidence surely that this appeared while the suspected writer was waiting sentencing. In fact the prosecutor Hugo Lodge said of Tox "He is no Banksy. He doesn't have the artistic skills, so he has to get his tag up as much as possible."
So now we have the ridiculous scenario where the judiciary are ruling on artistic merit on whether to find someone guilty of graffiti. While one looks at a custodial sentence another gets lauded and a perspex cover slapped over it. And this, for me at least, is the point of this piece. It stabs an accusing finger at the hypocrisy of sentencing in this country. Its not about the crime, its about the money.
STATUS: Still running under perspex
photo: artofthestate.co.uk 2011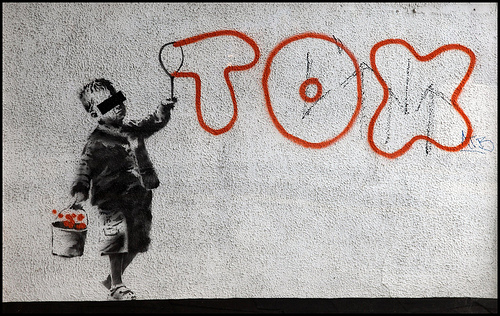 Banksy Tox in Camden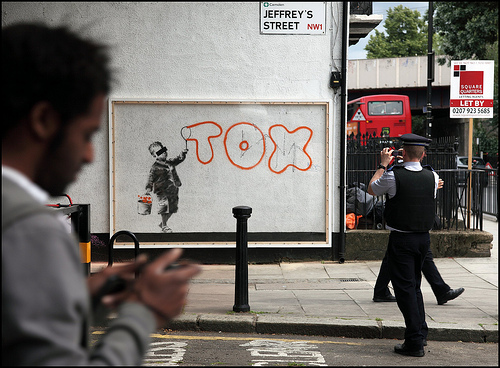 Banksy Tox in Camden
Banksy news _ read the aots banksy blog
Banksy street work photo galleries
London 0 1 2 3 4 5 6 7 8 9 10
11 12 13 14 15 16 17
Bristol / Seaside
USA / Europe
Banksy off street photo galleries
Turf War 1 2 3 4
Crude Oils 1 2
Barely Legal 1 2
Cans Festival 1
Banksy versus Bristol Museum 1 2
Santa's Ghetto 2003 2004 2005 2006 2007 2010 _ M&S
Other Banksy Exhibitions 1
Banksy film and videos
Exit Through The Gift Shop DVD and film
Banksy videos
Banksy prints
screen prints / photo prints
Banksy books
Banging / Exist / Cut It Out / Wall and Piece /
All Banksy Books
Official websites
Banksy.co.uk (the real deal)
picturesonwalls.com (prints)
pestcontroloffice.com (authentication)
Banksy _ stuff for sale quick links




Banksy FAQ