Banksy Turf War billboard outside the show
Banksy Turf War, Dalston, London E8 July 18th to 20th, 2003 The location for Banksy's Turf War was kept secret until just a day before the event. An email gave an address in Dalston, East London. And all of a sudden half of the East End's new media community (basically all of those who didn't go to the party the night before) were off to the venue _ a disused warehouse in Kingsland Road.
I feel obliged to state here for the record:
I don't work in advertising (or new media). I don't have a Hoxton Fin nor did I walk about the exhibition talking into my phone saying "Yah, you really should get down here, it's sooo cool".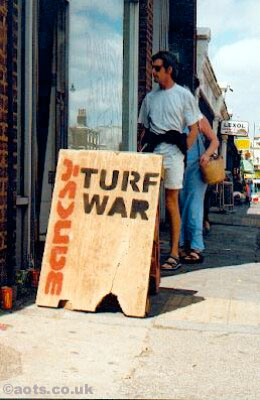 Banksy Turf War
Banksy news _ read the aots banksy blog
Banksy street work photo galleries
London 0 1 2 3 4 5 6 7 8 9 10
11 12 13 14 15 16 17
Bristol / Seaside
USA / Europe
Banksy off street photo galleries
Turf War 1 2 3 4
Crude Oils 1 2
Barely Legal 1 2
Cans Festival 1
Banksy versus Bristol Museum 1 2
Santa's Ghetto 2003 2004 2005 2006 2007 2010 _ M&S
Other Banksy Exhibitions 1
Banksy film and videos
Exit Through The Gift Shop DVD and film
Banksy videos
Banksy prints
screen prints / photo prints
Banksy books
Banging / Exist / Cut It Out / Wall and Piece /
All Banksy Books
Official websites
Banksy.co.uk (the real deal)
picturesonwalls.com (prints)
pestcontroloffice.com (authentication)
Banksy _ stuff for sale quick links




Banksy FAQ