Banksy Abraham Lincoln, New Orleans
Banksy _ Abraham Lincoln, New Orleans Abraham Lincoln by Banksy in New Orleans.
Hurricane Katrina hit New Orleans in August 2005 killing nearly 1700 in the state of Louisiana and displacing around a million inhabitants in the affected areas. Local, state and federal governments were criticised for being to slow to react to the initial damage wreaked with poor planning and an attitude that treated treated the city's people as if they came from a part of the world other than the richest nation on Earth. Its an attitude that still seems to be in place today judging by the pace of the reconstruction. These images appeared just prior to the third anniversary of Katrina.
These pictures have been borrowed and cropped from banksy.co.uk where you can see the full size versions.
photograph copyright banksy.co.uk 2008 / 2011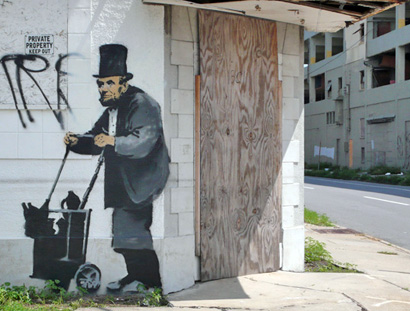 Banksy Abraham Lincoln, New Orleans
Banksy news _ read the aots banksy blog
Banksy street work photo galleries
London 0 1 2 3 4 5 6 7 8 9 10
11 12 13 14 15 16 17
Bristol / Seaside
USA / Europe
Banksy off street photo galleries
Turf War 1 2 3 4
Crude Oils 1 2
Barely Legal 1 2
Cans Festival 1
Banksy versus Bristol Museum 1 2
Santa's Ghetto 2003 2004 2005 2006 2007 2010 _ M&S
Other Banksy Exhibitions 1
Banksy film and videos
Exit Through The Gift Shop DVD and film
Banksy videos
Banksy prints
screen prints / photo prints
Banksy books
Banging / Exist / Cut It Out / Wall and Piece /
All Banksy Books
Official websites
Banksy.co.uk (the real deal)
picturesonwalls.com (prints)
pestcontroloffice.com (authentication)
Banksy _ stuff for sale quick links




Banksy FAQ