Banksy Houses Of Parliament / Monkey parliament on display at the Bristol Museum.
Banksy, Parliament question time at the Banksy Versus Bristol Museum Summer Show, Bristol 2009. Chimps are asking all the questions in this huge depiction of question time at the Houses of Parliament.
Sometimes you wonder exactly how far we have evolved.
all photos copyright artofthestate.co.uk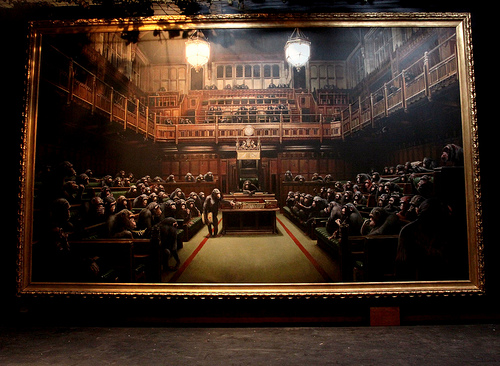 Banksy Parliament chimps
Banksy street work photo galleries
London 0 1 2 3 4 5 6 7 8 9 10
11 12 13 14 15 16 17
Bristol / Seaside
USA / Europe
Banksy off street photo galleries
Turf War 1 2 3 4
Crude Oils 1 2
Barely Legal 1 2
Cans Festival 1
Banksy versus Bristol Museum 1 2
Santa's Ghetto 2003 2004 2005 2006 2007 2010 _ M&S
Other Banksy Exhibitions 1