Santa's Ghetto 2006 Banksy versus Tor Ormond
Santa's Ghetto 2006, Banksy _ Michael Jackson Detail from the Hansel and Gretel style canvas featuring Michael Jackson at Santa's Ghetto.
It reminded me of some graffiti I saw years ago which said in foot high letters "Michael Is A Healer, Not a Feeler". Still makes me chuckle even now.
On the Santa's Ghetto leaflet it reports that this painting was originally by Tom Ormond and that Banksy painted Michael Jackson over the top of it. And that Tom is a surprisingly hard bastard who wasn't impressed with people mucking about with his work.
All photographs copyright artofthestate 2006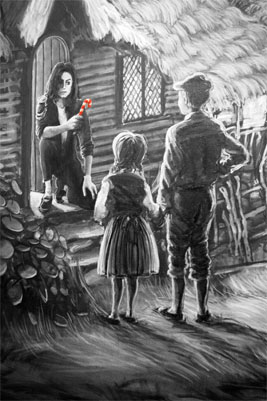 Santa's Ghetto 2006 Banksy Tom Ormond painting
Banksy news _ read the aots banksy blog
Banksy street work photo galleries
London 0 1 2 3 4 5 6 7 8 9 10
11 12 13 14 15 16 17
Bristol / Seaside
USA / Europe
Banksy off street photo galleries
Turf War 1 2 3 4
Crude Oils 1 2
Barely Legal 1 2
Cans Festival 1
Banksy versus Bristol Museum 1 2
Santa's Ghetto 2003 2004 2005 2006 2007 2010 _ M&S
Other Banksy Exhibitions 1
Banksy film and videos
Exit Through The Gift Shop DVD and film
Banksy videos
Banksy prints
screen prints / photo prints
Banksy books
Banging / Exist / Cut It Out / Wall and Piece /
All Banksy Books
Official websites
Banksy.co.uk (the real deal)
picturesonwalls.com (prints)
pestcontroloffice.com (authentication)
Banksy _ stuff for sale quick links




Banksy FAQ