Banksy Locations and Tours Book by Martin Bull







street art archive copy Banksy Locations and Tours book, Martin Bull (Shell Shock Publishing) ISBN 978_0_9554712_0_9 BLT (Banksy Locations and Tours) is the new (unofficial) Banksy graffiti locations book, painstakingly compiled by Martin Bull. 170 pages, 65 locations and 100 colour photographs. I think Martin must have been a train spotter in a previous life _ there's postcodes and GPS references for every location along with comments about the history of the piece or the things that have happened (hippies and strippers) when his tours have arrived at a site. It's pretty much Banksy all the way but he does include some other artists such as Eine, Dface and Blek Le Rat. It's a great little book, kind of reminds me of the little Banksy books (but a lot thicker). Ideal for reading in the smallest room in the house.
There are three walk and look tours included (Hoxton & Shoreditch, Farringdon & Clerkenwell, Waterloo, South Bank and Victoria Embankment). Much of the graffiti has already gone but a walk around any of these areas will always be interesting and you might just stumble on something new as Martin did when he found the Banksy Maid on the side of the White Cube gallery.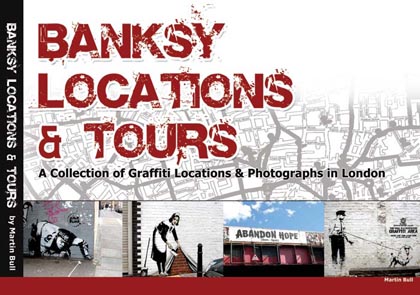 Banksy Locations and Tours Book by Martin Bull
STENCIL GRAFFITI galleries
1 2 3 4 5 6 7 8 9 10 11 12 13 STICKER GRAFFITI Galleries
1 2
SPRAY CAN Galleries
1 2 3 4 5 6
GRAFFITI scenes
graffiti signs, cans etc.
GRAFFITI books / DVD's reviews
artofthestate graffiti forum
FEATURED GRAF ARTISTS
adam neate / arofish / banksy / dface / eine / el chivo / faile / obey / space invaders / the london police / the toasters / zef