BANKSY
Banksy is a British street artist from Bristol. While he is maybe most famous for his street based stencil graffiti work he has also put on a wide variety of shows in unusual locations, released a film 'Exit Through The Gift Shop' and published several books.
This site features a collection of over 600 unique photos of his work I've taken in the UK but it's not his 'official' website, if you want that you need to visit banksy.co.uk.
If you are new to this site and want to see all the Banksy pictures one by one start here but be warned - its going to take a while! Otherwise just use the links on the far right to view individual picture galleries including street work, exhibitions and other appearances. For the latest Banksy news consider subscribing to the AOTS Banksy blog below or follow artofthestateuk on Twitter.
You can subscribe to BANKSY NEWS here
BANKSY LOCATIONS MAP The best available guides to Banksy's London locations are Martin Bull's 'Banksy Locations and Tours' books volume 1 and Volume 2 but if you've only got limited time and want to be sure that the graffiti will be there when you get there then try these locations in London marked on the Art Of The State Banksy Locations Map.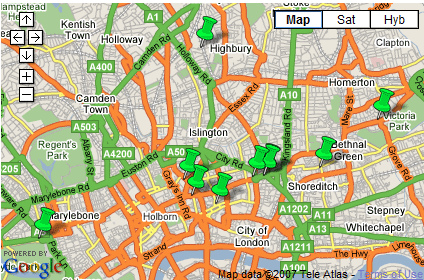 Feel free to get in contact with any questions you have about the Banksy images on these pages. I'm always interested in reports of new pieces. If you have any specific question about Banksy I suggest reading my FAQ's first.
Please note that you cannot buy printed copies of the Banksy images on this site. Budding entrepreneurs should also not use them to launch a new business on Ebay or anywhere else for that matter, thanks.
Banksy news - read the aots banksy blog
Banksy stencils - street work photo galleries
London 0 1 2 3 4 5 6 7 8 9 10
11 12 13 14 15 16 17
Bristol / Seaside
USA / Europe
Banksy off street photo galleries
Turf War 1 2 3 4
Crude Oils 1 2
Barely Legal 1 2
Cans Festival 1
Banksy versus Bristol Museum 1 2
Lambeth Palace 1
Santa's Ghetto 2003 2004 2005 2006 2007 2010 - M&S
Other Exhibitions 1
Banksy books
Banging / Exist / Cut It Out / Wall and Piece /
All Banksy Books
Banksy film and videos
Exit Through The Gift Shop DVD and film
Banksy videos
Banksy prints
screen prints / photo prints
Official websites
Banksy.co.uk (the real deal)
picturesonwalls.com (prints)
pestcontroloffice.com (authentication)
Banksy FAQ